About Luke
Luke's interest in movement started from the age of 7 when his parents sent him to gymnastics classes. From the ages of 7 to 13, he trained three times a week, and achieved the level of regional champion three years in a row. He left gymnastics behind in his teenage years when he became interested in art, and went to study at college, where he thought he might try A-level dance on a Friday, just for a laugh; he hasn't stopped dancing since.
He received amazing support from his first dance teacher, Amanda Skevington, who encouraged him to go on to vocational training. He first studied at Northern School of Contemporary Dance, on the Foundation course, before going on to complete his BA Hons at Laban. After graduating, he joined Edge Dance Company, at London Contemporary Dance School (The Place), where he gained a Post Graduate Diploma. During this time, he met Rosemary Lee, who invited him to join her projects; and Yael Flexer, who he has danced for and worked with ever since.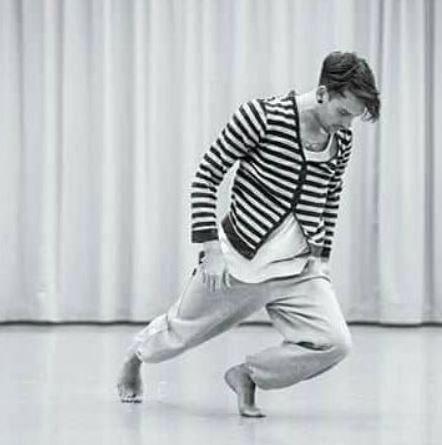 While touring the world as a performer, with various companies and independent artists, Luke has enjoyed working in a variety of contexts and with a range of communities. He has worked alongside community casts, older dancers, disabled dancers, beginners and professionals, in a multitude of different locations, including prestigeous galleries, such as the Tate, outdoor sites, hospitals, mines, and derelict buildings.
His teaching practice has grown alongside his performance career, which is fuelled by the satisfaction of meeting the needs of others, and enjoyment in the different ways people can be together in movement. His teaching career has also taken him around the world (Norway, Israel), through universities, and back into the institutions he trained at.
In recent years, his explorations in choreographing work for student groups has encouraged him to begin exploring his own choreographic voice; using language and self-written prose alongside improvised and formed materials.
His work has been performed at Sadlers Wells (Elixir Festival), The Place and Siobhan Davies Studios.